Web Communities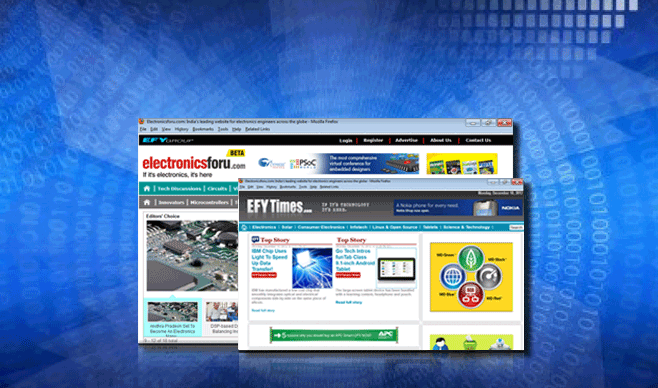 Online Communities
Electronicsforu.com
This portal serves as a storehouse of information for the electronics and technology industry. The latest news, information about new products, and a web search covering not less than 50,000 electronics websites are some of the facilities this portal offers. It also features the hugely popular EFY tested circuits, reproduced from Electronics For You magazine!
To view the website, click here
EFYTimes.com
It is a very popular news portal on electronics and technology and it carries special stories on the Linux/open-source world, and interviews with leading developers, CEOs and other tech gurus. You'll find this site packed with the latest news on the infotech industry, the renewable energy industry, gaming, science, automobile industry and telecom.
To view the website, click here
Opensourceforu.com
This portal was launched along with the launch of Linux For You magazine. Hence, like the printed version, this portal promotes the use of open source in the IT industry, and informs readers as to how companies that have adopted open source are able to get a high return on investment (RoI).
To view the website, click here
Electronicsb2b.com
And electronicsb2b portal, rich in news, views and articles, www.electronicsb2b.com is a proper sourcing guide for manufacturers, channel partners and buyers of electronics hardware, machine, equipment etc.
To view the website, click here
Investinelectronics.in
Investinelectronics.in keeps you informed on all the key developments related to government policies, news, regulatory set up, tax structure, grants and financial aids, sales and auctions, policy guidelines etc. on the Indian electronics industry. The mission of investinelectronics.in is simple and modest – to provide decision makers with up-to-date and comprehensive information and analysis on the Indian electronics industry.
To view the website, click here
eleb2b.com – B2B Electronics Components Suppliers, Service Providers etc 
This portal can be termed the 'Yellow pages' of the Indian electronics industry. You will find all the information you need about the companies in the Indian electronics industry, however big or small in size. This portal will help you find buyers and suppliers, launch products and promote business. It will keep you informed about key trends, help you post stock clearance alerts as well as post requests for quotes (tenders).
View online b2b electronics suppliers etc.
Other Online Communities
Design Electronics
This Facebook page is powered by EFY Group -publishers of Electronics For You magazine and the web portal www.electronicsforu.com We cater to the electronics fraternity with the aim to discuss latest technology and trends, and to share knowledge. With the addition of this channel, we hope to expand the platform and build a bigger community globally.
Tablets
An attempt by Electronics For You & LINUX For You teams to create a special page dedicated to Tablets for the tech / gadget lovers of India. Will talk about everything and anything related to tablets…
Open Source For You
From FOSS newbies to power users, from developers to sysadmins, This facebook page powered by LINUX For You has everyone covered. Join our community, and let's collaborate in creating content to assist users!
Tech Drive (Youtube Channel)
Tech Drive on Youtube is the official video channel of EFY. From tutorials to DIYs, from open source to internet of things, there is something on this channel for every engineer and enthusiast!