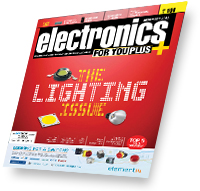 INVEST IN KNOWLEDGE. GET LED LIGHTS AS BONUS! Here's an offer especially designed for the Festival Period: 
Subscribe to Electronics For You and get LED Lights of equivalent price for FREE!
Electronics For You will ensure that you are updated about "what you should know but weren't aware about", while the LED Lights will help you to save energy and start experiencing the benefits of LED Lighting. 
We are sourcing the LED Lights that you will receive as gifts from reputed.
Read more