New Technologies in Design, Manufacture, Test and Software-Based Control are Improving the Chances of LED Winning in the Lighting Market Though LED lighting offers multiple benefits, the single factor that puts it out of the reach of masses today is the high initial cost. Therefore, the dream of every player in the LED lighting industry today is to create a commercially-feasible LED lamp that is equivalent to a 60W incandescent bulb, saleable at a cost of $5 to $10. The race to achieve this is.
Read more
The First day of the Event Opened to an Audience of 1,000 Techies India's electronics professionals have come under a single roof at Electronics Rocks 2012, a unique event aimed at accelerating design and innovation of electronics in India. The two-day event started yesterday at Bengaluru's NIMHANS Convention Center. The first day opened to an audience of 1,000 techies. With 50-plus speakers spanning keynotes, tech talks, workshops, panel discussions, a wide range of electronics-related topics are to be discussed at the event, with many of the.
Read more
The New Edition is Being Launched at Electronics Rocks 2012 in Bengaluru Under Beta Phase Electronicsforu.com, an online storehouse of information for the electronics and technology industry, has a new look and feel. The website, developed in India for electronics engineers all across the globe, has been redesigned to make it easier to use and more attractive. In order to seek feedback from industry and community, the new edition is being launched at Electronics Rocks 2012 at Bengaluru under
beta phase
. Named
Electronics Rocks.
Read more
The Segments and Subject Categories are now More Prominent and Easy to Find Electronicsb2b.com, an online electronics business to business portal, has a new look. It has been relaunched with a new user-friendly design and an abridged version better adapted to the specific needs of its target audience. "The portal aims to provide easy, fast and user-friendly access to an abundance of information pertaining to different segments of the Indian electronics industry. It is an international gateway to the Indian electronics B2B industry," said Ramesh Chopra.
Read more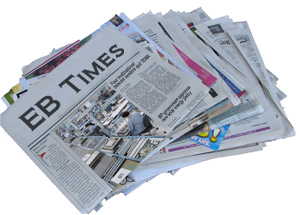 EB Times to be Launched on Sept 11 and Distributed in all Electronics Trade Markets Across India Electronics Bazaar, an EFY group publication, has announced the launch of EB Times, a monthly business to business newspaper. This newspaper will be an important resource for traders, distributors, dealers, and all those who head channel business, as it aims to give an impetus to channel sales. EB Times will be distributed in all major trade markets dealing in electronics hardware and products in major cities like Delhi, Mumbai, Kolkata, Chennai, and many.
Read more
Electronics Rocks 2012 to be Held on 30 and 31 August in Bengaluru, Targets Engineers From the System Design and Chip Design Community Bengaluru is home to India's electronics design community and is a global destination for people in this domain. This, coupled with the encouraging feedback received at the 2011 and 2012 editions of EFY's 'Design Engineers Conference' (which were held at New Delhi, as part of the EFY Expo), motivated the group to organise a much larger event at Bengaluru. Named 'Electronics Rocks 2012′ to reflect the.
Read more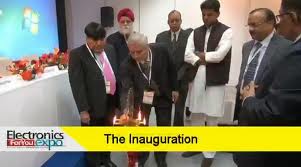 The Third Edition of the EFY Expo Will See Power Packed Conferences That Will Provide The Industry an Opportunity For Knowledge-Sharing and Networking The Electronics for You [EFY] Expo 2013 aims to bring the entire electronics industry under one roof from February 21-23, 2013, at Pragati Maidan, New Delhi. This is the only electronics event that covers the entire eco-system of the electronics industry as it focuses on the electronics value chain including components, parts, materials, manufacturing services and equipment. The EFY Expo is a comprehensive and.
Read more
Trends in Line With the Needs of New-Generation Electronic Devices As the complexity and functionality of electronic devices grows exponentially, test and measurement manufacturers and design houses are adopting use of multicore and parallel test systems to test more with less - according to a report published in Electronics For You magazine, a flagship publication of EFY Group. There has been increasing integration of internet connectivity, wireless communications, high-fidelity audio and HD video in consumer electronics devices. Key trends to tackle testing needs of such devices.
Read more
Electronics For You Plus has a minimum of 8 extra pages in the edition, where the reader gets to know about key software bundled in the DVD and gets tips on how to use them. Airlines have the first class, railways too have the same, theaters have the balcony, and now a magazine launches a "plus" edition to cater to different segments! EFY Group, India's leading technology media house, recently announced the launch of Electronics For You Plus (EFY Plus). The launch of EFY Plus marks an.
Read more
Statistics for May 2012 Show That a Majority (45.4 per cent) of the Members are People Between 18 to 24 Years with 50,653 Visitors And From India Only Linux For You, Asia's first publication on Linux and open source software, has witnessed an overwhelming increase in its fan base on Facebook to over 2,00,000 followers, ever since its inception on 20 January 2009. In a short span of a few years, the magazine has achieved a major milestone as is visible in the statistics of its Facebook.
Read more